Expressionism is style emerged in Germany in the early 20th century and it can be found in painting, literature, cinema, and music.Expressionism was popular after World War I as it represented the disillusionment of the results of the conflict.
It declined in the late 1920s and when Nazi party came to power forbade expressionism as it was considered "degenerate".
Expressionism is a style characterized by the fact that artists do not want to reproduce objective reality, their goal is to reflect subjective emotions as a response to events. Other characteristic of expressionism is the use of distortion, fantasy, and exaggeration to impact the audience.
The origins of Expressionism can be found in the works of Van Gogh who created a personal style as he broke with the representation of nature to produce expressive creations with bold colors that reflected different states of mind.
The second wave of expressionism started in 1905 with two different groups: Die Brücke or The Bridge and Der Blaue Reiter (The Blue Rider)
DIE BRÜCKE
The painters included in this group used bold colors to create a harsh style with a great visual intensity. With distorted lines, quick brushstrokes, and unrealistic colors they created dynamic urban street scenes communicating a sense of frustration anxiety and violence in response of modern life. The group was led by Kirchner and included artists such as Emil Nolde and Oscar Kokoschka–
DER BLAUE REITER
The group of artists known as Der Blaue Reiter (The Blue Rider) are sometimes considered expressionists. However, their art is generally lyrical, abstract, and less overtly emotional than that of Die Brücke. The artists of Der Blaue Reiter included Vassily Kandinsky and Franz Marc.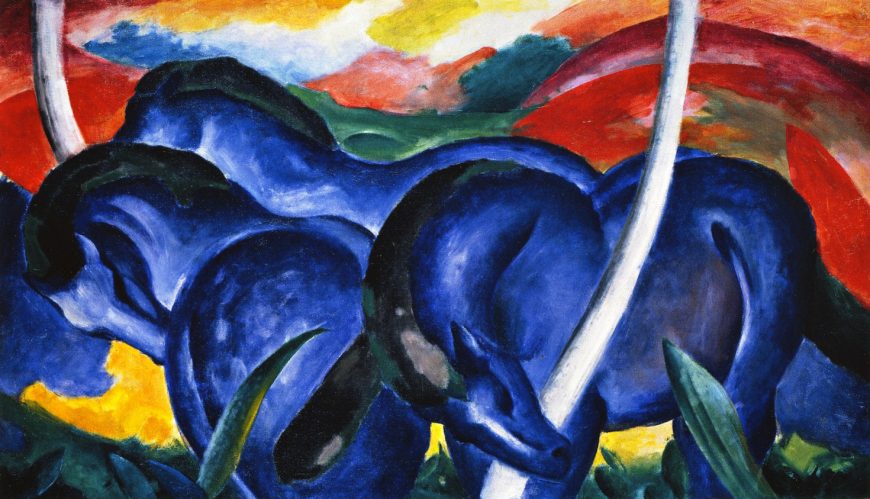 After II World War an abstract expressionism emerce in America and it is known as abstract expressionism.
NOTES ON EXPRESSIONISM:
POWER POINT:
VIDEOS TO REVIEW: