From 1991 to 1999 Russia lost their leading role in the international context due to political turmoil and economic crisis experienced after the fall of the communism. Recently has recovered its dominant role in global context because of energy provider for EU, China and India. This gave Russia more influence in international negotiations and more political influence in conflicts such as Syria.
On the other hand, Russia never lost its position in the UN Security Council, it is considered as an active member of the G-8 and leads the emerging countries group known as the BRICS. Russia also has high military power.
In the regional context, Russia aspires to become a dominant power in Central Asia by leading the CIS or Commonwealth of Independent Countries controlling the production and transport of petroleum and gas as well as limiting the western countries interference in the area.
CONFLICTS INVOLVING RUSSIA
Chechnya is a Russian region which wanted to be independent in 1991. However, Russian army and government repress Chechen population. Chechen guerrilla has committed terrorist attacks and sabotages harshly repressed.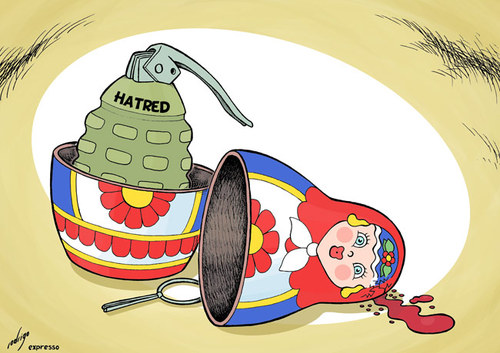 Georgia confronted with Russia since the country entered NATO and signed an agreement with the EU. Rivalries arose for the control of the energy resources in the Caspian Sea and the gas and oil transport to EU countries through a pipeline. Other conflict emerged when Russia supported South Ossetia rebels fighting for independence from Georgia in 2008.
The war was short and finished with the peace plan prepared by the EU returning to the positions previous to the war. However, the conflict is not solved yet and international courts are discussing it.
Ukraine is a country rich in minerals and energy resources as well as a grain producer. Reasons for a rivalry with Russia are:
Energy resources as Russia increased the price Ukraine paid for gas and cancelled its supply. This affected EU as pipelines cross Ukrainian territory.
Ukraine tried to enter NATO, but Russia threatened Ukraine to avoid Western influence in the area.
Crimean Peninsula was given to Ukraine by Stalin in The strategic position of Crimean Peninsula especially the port of Sebastopol which is the base of the Russian fleet on the Black Sea. On the other hand, Crimean population is Russian speaking sharing the same "culture". In 2014, Russia supported the Crimean rebels in their independence from Ukraine and annexed it as Russian province. The conflict is not solved yet.